Gas Distribution Program
Achieving Peak Uptime Starts at the Gas Bottle
Overlooked gas distribution system issues can result not only in loss of gases, but also in lost process efficiency, downtime, or safety hazards. When system operation is not intuitive, when leaks are a concern, or when your gas panels are difficult to service, it is time to take action to avoid compounding costs.
The Swagelok Gas Distribution Program is designed to help you ensure the safety and well-being of system operators and all team members, increase uptime and improve process accuracy and repeatability, reduce costs by avoiding leakage and unplanned maintenance, focus your time and resources where they are needed most.
Gas Distribution Evaluation and Advisory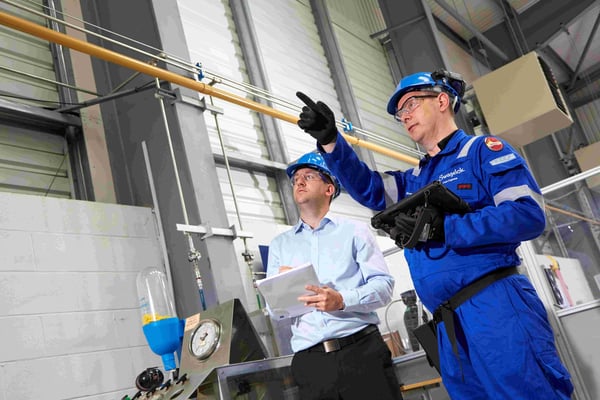 Through the Swagelok Gas Distribution Program, we can help with a total system evaluation to identify things like leaking connections, layout and design as well as product selection and specification. We deliver a fully engineered system that is assembled and tested prior to installation, built with minimal threaded connections to avoid leaks, clearly labelled for safety and functionality, easy to understand and operate, simple to troubleshoot and perform routine service and delivered on time.
Gas Distribution Systems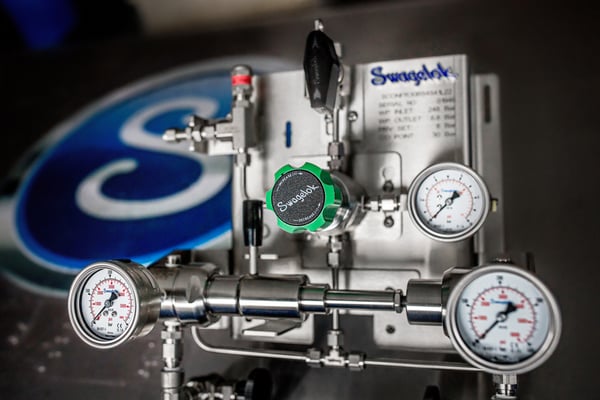 We design all Swagelok® Gas Distribution Systems based on best practices. Our modular panels feature minimal threaded connections to reduce potential leaks, and they are intuitively labelled to promote safe and simple use including maintenance.
As Swagelok® Gas Distribution Systems are also highly configurable we can add features or make modifications as needed to suit your requirements. They are easy to order from our
as single part numbers, reducing the time you spend on specification and procurement.
All our gas distribution systems are backed by the Swagelok Limited Lifetime Warranty.
Swagelok® Gas Distribution Systems are built around one or a series of pressure regulation steps that could include four subsystems, which are explained below.
Swagelok® source inlet (SSI)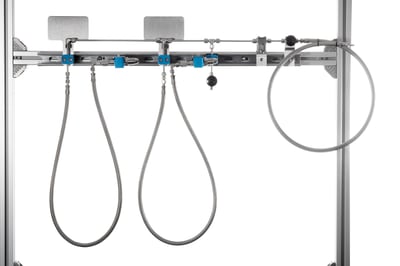 The source inlet establishes a connection between the high-pressure gas source and the distribution system. It is essential the inlet is built with appropriate cylinder connections, hoses, tubing, filters, and vent, purge, and relief functions to make sure that gas can be safely fed into the primary gas pressure control or automatic changeover.
Swagelok® gas panel (SGP)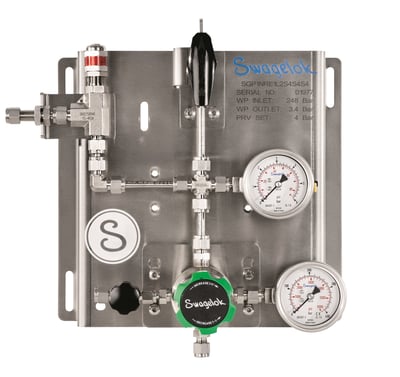 As the primary gas pressure control, the SGP completes the first pressure reduction of the source gas and makes sure it is delivered at the right flow rate to the next stage of the system. Pressure reduction is accomplished in either one stage with a single pressure regulator or two stages through a dual pressure regulator arrangement.
Swagelok® changeover (SCO)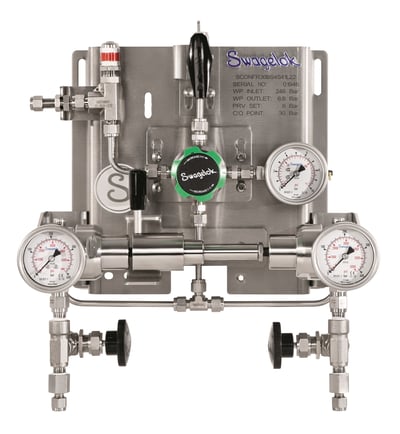 The automatic changeover system seamlessly switches from one gas source to another to ensure an uninterrupted supply. This is achieved through staggered set points of two pressure regulators, allowing the system to continue to operate as the primary gas source is changed. Our changeover station allows for customer-specified changeover set points to help reduce wasted gas left in cylinders.
Swagelok® point-of-use (SPU)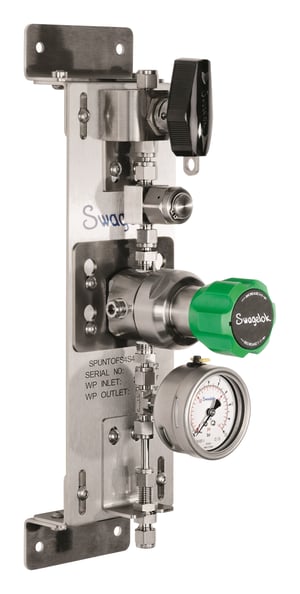 The point-of-use provides the critical final stage of pressure control prior to the gas being used. These are often the least complex of the four main subsystems, typically having a pressure regulator, gauge, and isolation valve. Point-of-use systems offer a convenient and accurate method of adjusting pressure to meet test bench or equipment needs.
Whether you need a standard solution or custom arrangement, we can design and assemble a gas distribution system that is right for you get in touch with a member of our
today!