Local Swagelok Services
Browse this page to see examples of how we create value for companies in our region. How can we help you?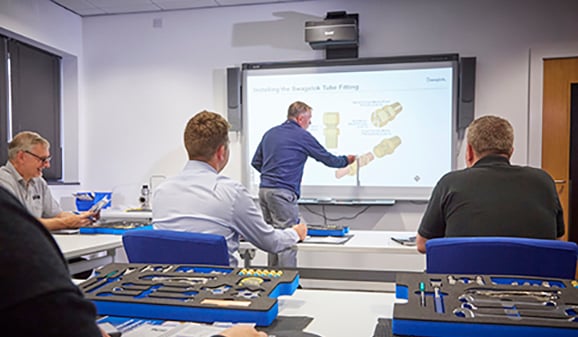 Swagelok Training
Combined, the Swagelok-certified trainers at Swagelok Manchester bring to bear 92 years of industry experience in oil & gas, clean energy, chemical, pharmaceutical, and analytics applications. Learn about virtual and onsite training options that will increase your team's safety and performance. Learn More →
Custom Solutions
Enhance efficiency by outsourcing assembly
We add efficiency and reliability to customer operations with expert design and construction of fluid system assemblies. Standard assemblies include gas distribution systems, mechanical seal support systems, and analytical subsystems. Learn more →
Gas Distribution Systems
Avoid costly leaks and improve process accuracy
We offer configurable, local, reliable gas delivery systems. Each is built with minimal threaded connections to avoid leaks, is clearly labelled for operator safety and ease of use, and comes with Swagelok's industry-leading warranty. Learn more →
Mechanical Seal Support Systems
Keep your rotating equipment operating efficiently
Each plan, kit, and individual component we offer is design and built according to rigorous industry standards, minimising the number of connections and pipe threads. Learn more →
Field Advisory Services
Evaluations & advice by Swagelok-certified experts
A Swagelok field engineer can advise on how to tighten up and save at your facility. We can find compressed gas leaks, advise on analytical instrumentation, check steam systems, and much more. Learn more →
Engineering and Construction Project Support
Benefit from global resources and local support
Tap into Swagelok engineering support, application and materials expertise, standardised training, and efficient project management on your large-scale capital projects and construction. We offer a suite of services designed to help you navigate complex logistics, minimise costs, comply with regulations, and deliver on time. To learn more, please give us a call at 01925 822662.
Grab Sampling Systems
Safely capture representative samples of liquid or gas
Our closed-loop sampling systems deliver pressurised samples into pressure-rated cylinders, while liquid grab sampling systems allow you to collect process fluid into glass laboratory bottles for analysis. To learn more, please give us a call at 01925 822662.